Our Community
a little about you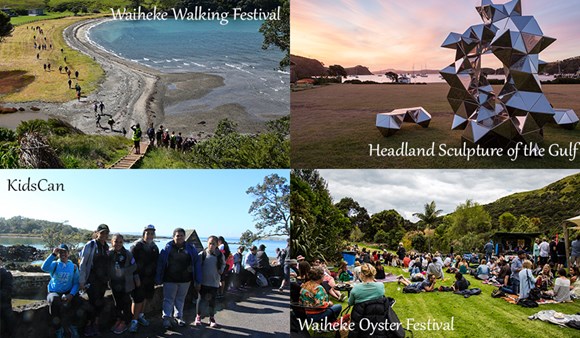 Whether we're getting behind sporting groups, charities, wildlife groups, educational institutions or the local arts, Fullers and 360 Discovery are committed to supporting our local communities and businesses.
Sponsorship of events, individuals or organisations is an important part of our business and a key way to connect with our customers and give something back to our local communities and their growth.
We are also very proud to have a long history of supporting some major local events including:
The Waiheke Island Walking Festival.
The Dual on Motutapu Island.
The Waiheke Jazz Festival.
Headland Sculpture on the Gulf.
Rangitoto Island's Bach Tour and Tea during The Auckland Heritage Festival.
The Waiheke Onetangi Beach Races.
Wildlife releases on Tiritiri Matangi and Rotoroa Islands.
We consider sponsoring events that provide us with the opportunity to communicate our brand values and attributes, showcase local products and services, increase awareness and engagement of the Hauraki Gulf and the destinations we reach. If this sounds like your initiative, then feel free to get in touch with us!
A Community Story - Waiheke Island
Since the late 1970s, Fullers Group Ltd (then Gulf Ferries), has been connected to the Waiheke Island people, its community and its growth. Providing a vital transport link with a ferry service that began with two sailings a day and now operating over 20 return sailings a day.
Fullers has quietly contributed millions of dollars to the community of Waiheke Island, with investments contributing to infrastructure, the development of on-island transport, start-up support for business development, supporting local sports teams and event sponsorship.
Some of our main areas of sponsorship and support include:
Ensuring sick children and their families get free travel off the island to medical appointments and treatments by working closely with Waiheke's Jazzy Dean Trust.
Helping Waiheke children learn to swim  by partnering with Tepid Baths and providing heavily discounted swimming lessons and ferry fare packages.
Working with ARHT (Auckland Regional Helicopter Trust) on their Annual Man O'War Summer Lunch by sponsoring a ferry charter with proceeds from their fundraiser assisting with Auckland Rescue Helicopter's activity on Waiheke Island.
Sponsoring The Waiheke United Football Club and The Waiheke Rams teams, giving some free travel to games in Auckland City.
Providing free travel to Waiheke Health Trust's Radiographer so that Waiheke locals have access to on-island X-ray services.
Headland Sculpture on the Gulf – Associate Partner.
The Waiheke Island Walking Festival – Key Sponsor.
The Waiheke Jazz Festival – Associate Partner.
Waiheke Art Gallery.
The Wharf 2 Wharf – Key Sponsor.
The Waiheke Oyster Festival – Main Sponsor.
Onetangi Beach Races – Main Sponsor.
Opera on The Gulf – Main Sponsor.
Waiheke Wine Growers Expo – Exclusive Sponsor.