Serving our community
We do our best to enrich the lives of our staff and community members by supporting the events, trusts, businesses, schools and environmental causes close to their hearts – all while maintaining operational excellence and a sustainable business. We pledge our continuous commitment to our community's wellbeing and invite you to explore our efforts. 
Wellbeing
Supporting schools, sports, medical trusts and the arts to foster community enrichment and growth.
Waiheke sports teams and athletes:

Supporting Waiheke Junior Cricket, Waiheke United, Waiheke Dolphins, and Waiheke Rams, by

providing

discounted travel to individual athletes to train and compete across greater Auckland.

Waiheke schools:

Sports travel for Waiheke Primary, Waiheke High School and

Te

Huruhi Prim

ar

y. 

Jassy Dean Trust:

Ensuring sick children and their families on Waiheke Island receive free travel off the island to medical appointments and treatment.

Auckland Regional Helicopter Trust:

Sponsoring ferry charter to ARHT's annual Man O'War Summer Lunch fundraiser.

Waiheke Health Trust:

Providing

free travel to the trust's radiographer

, Dietitian and

Podetrist

as well as

providing

tickets for hardship

so patients can travel to Auckland for appointments

. 

We offer a total mobility rate for people travelling that need a caregiver to travel with them.

Swimming lessons:

Helping Waiheke children learn to swim by partnering with Tepid Baths and

providing

heavily discounted swimming lessons and ferry fare packages.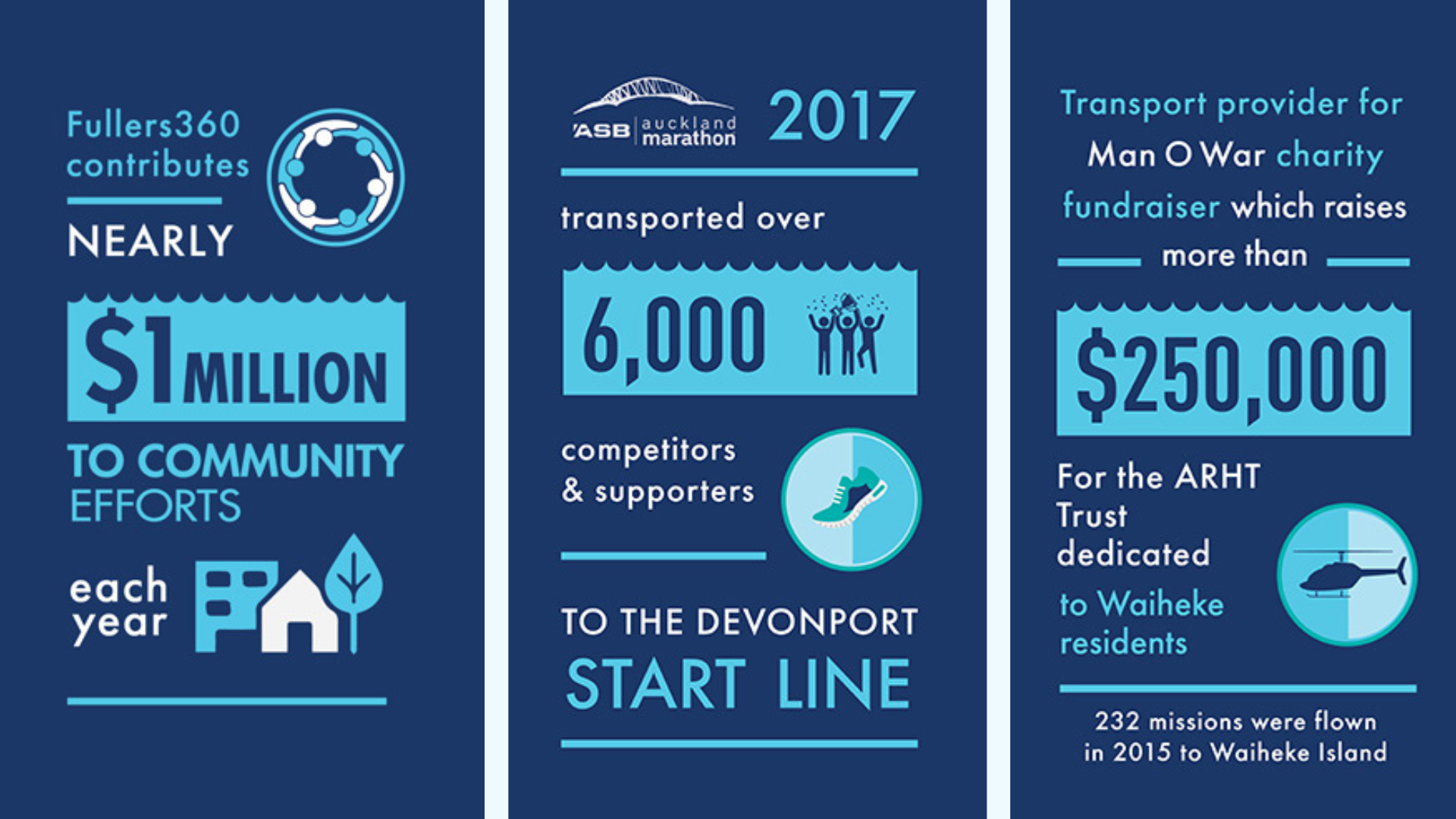 Conservation and the environment
Partnering with the Department of Conservation (DoC) and island trusts across the Hauraki Gulf to enable tree plantings, wildlife releases and more.
Pest-free biosecurity standards:

We hold a Pest-Free Warrant, upholding

DoC

and Auckland Council's biosecurity standards for visiting conservation islands in the Hauraki Gulf Marine Park.

DoC:

Beyond our biosecurity efforts on the wharves and vessels, we

provide

complimentary transport for

DoC

rangers to access conservation islands across the Gulf.

Island trusts:

We've

partnered with conservation trusts across all islands we travel to, supporting their biosecurity efforts, wildlife transport, tree plantings,

special events

and more. These include Rangitoto Island Historic Conservation Trust,

Rotoroa

Island Trust,

Motutapu

Restoration Trust,

and Waiheke Resources Trust.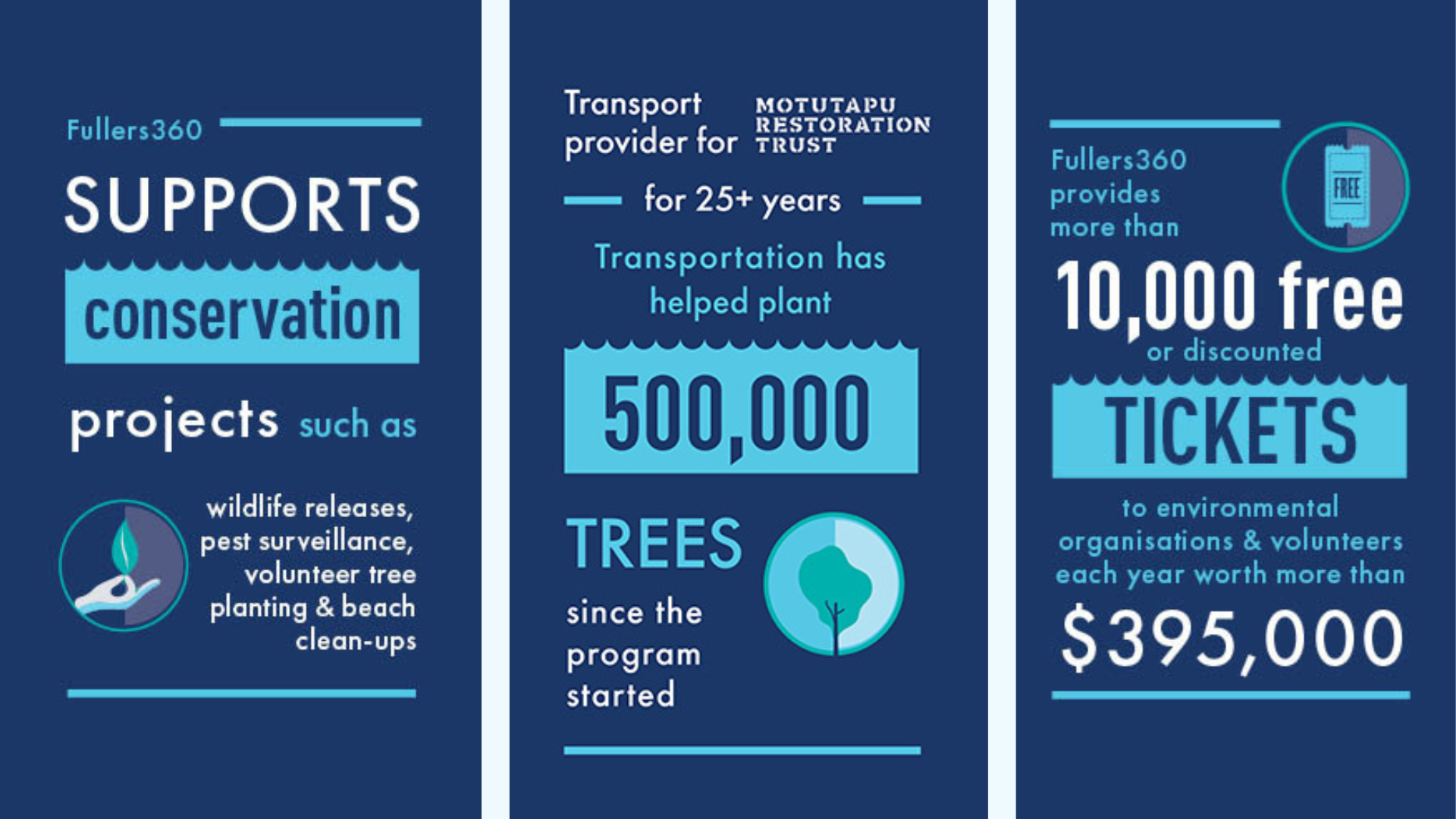 Event sponsorship
We provide financial support, transportation and resources to greater Auckland's hottest events, including:  
Auckland Heritage Festival events
The Dual
Flamingo Pier
Sculpture on the Gulf
Onetangi Beach Races
Waiheke Jazz Festival
Flamingo Pier
Wharf 2 Wharf Race
Sponsorship requests
We support many efforts that directly benefit the communities we serve – plus align with our goals and vision.
Fullers360 considers sponsoring events that provide the opportunity to communicate our brand values and attributes, showcase local products and services, increase awareness of the Hauraki Gulf, and encourage community engagement within the destinations we reach.
Please consider these guidelines about the scope of our support before submitting your requests.
If your initiative seems like a fit, contact us to submit a sponsorship request.