With MyFerry app you can access timetables and fares, renew your monthly and multi-trip passes, purchase, view or use QR code tickets to board, receive instant travel alerts and more!
User guide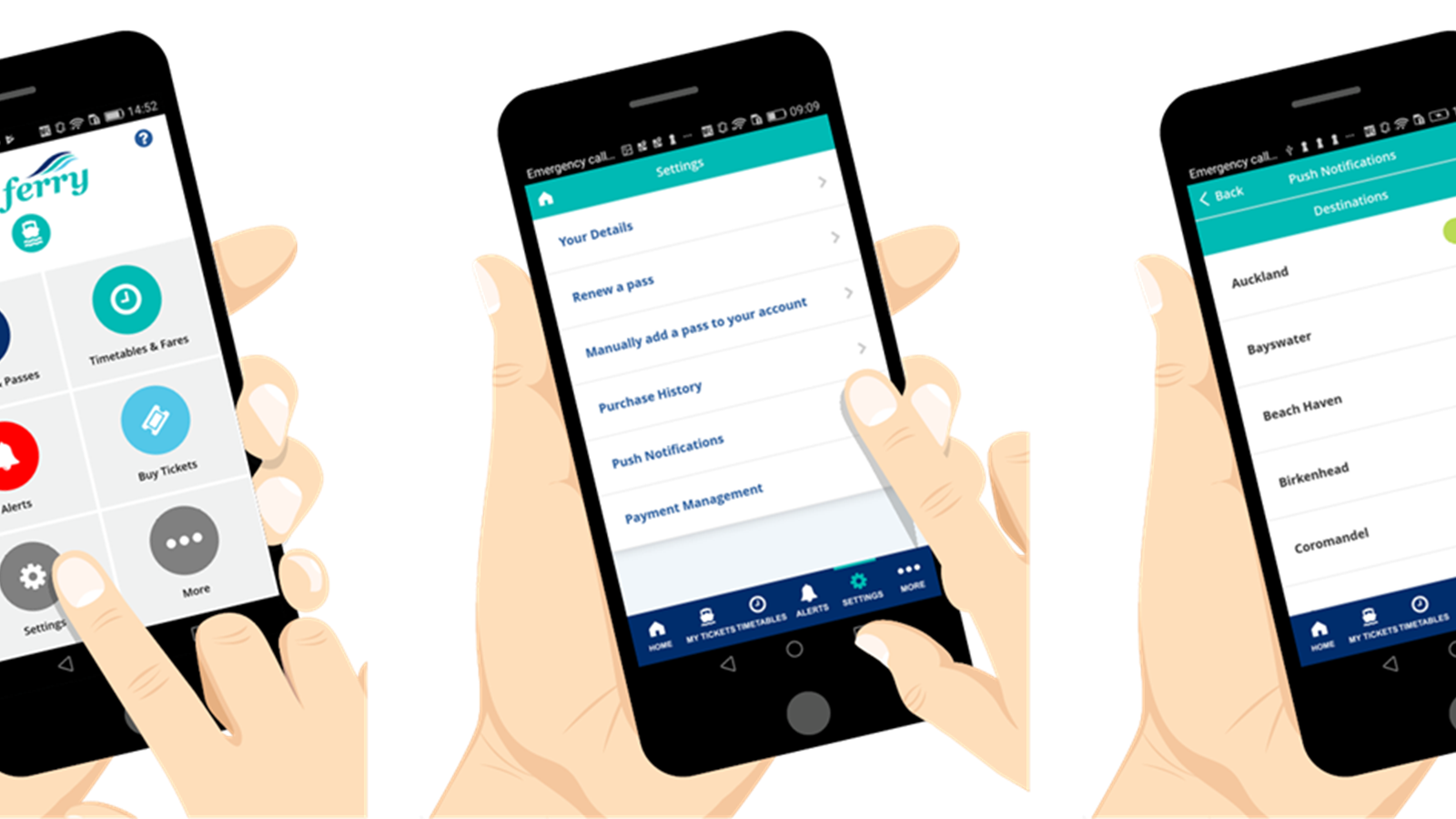 Don't wing it. Receive simplified travel alerts for your destination.
Set your travel alert preferences to receive push notifications directly from the app. Travel alerts will advise you of any changes to scheduled sailings – in real time. To stay in the know, just select the destination(s) you want to keep tabs on.
Going on holiday? Simply unselect your travel alerts and you won't be notified. Just make sure you remember to re-set your travel alert preferences when you are back!
Set your travel alerts:
1. Login with your credentials
2. Go to settings > push notifications
3. Tap each destination you'd like to receive travel alerts for
NEW: Alerts and Notice are now all under one section – Tap on Alerts from the homepage to see both travel alerts for your selected destinations and general notices.
NOTE: To ensure your travel alerts appear on your phones lock screen, you will need to allow push notifications to appear on the lock screen under your phone settings for the MyFerry app.
Sign in with your MyFerry account to see all your tickets in one place.
If your pass or ticket is active/valid and linked to your MyFerry account, it will show in the My Tickets section of your app. For monthly, 30 day and 40 trip passes, your photo is included for added security.
Linking your pass to your MyFerry account
For security reasons, you're no longer able to scan a physical pass card into the app. You'll need to link your pass to your MyFerry account, which you use to sign in to the MyFerry app.
1. To add your pass to your MyFerry account within the app, go to Settings > Manually add a pass to your account.
2. Enter your Last Name and Pass ID and tap Add Pass.
3. You can then renew your pass through the MyFerry app if it's linked to your MyFerry account.
Renewing your pass
1. From the home screen, tap on Settings > Renew a pass
2. Enter your Last Name and Pass ID and tap Add Pass
3. You will be able to renew your pass as it will now appear under My Tickets and Passes
Timetable and fare information for all routes are available at the touch of a button.
From the home screen, tap Timetables & Fares, or open Timetables from the menu along the bottom of your screen
Looking for a return sailing? Just tap Switch direction
To see fares, use the toggle at the top to select Fares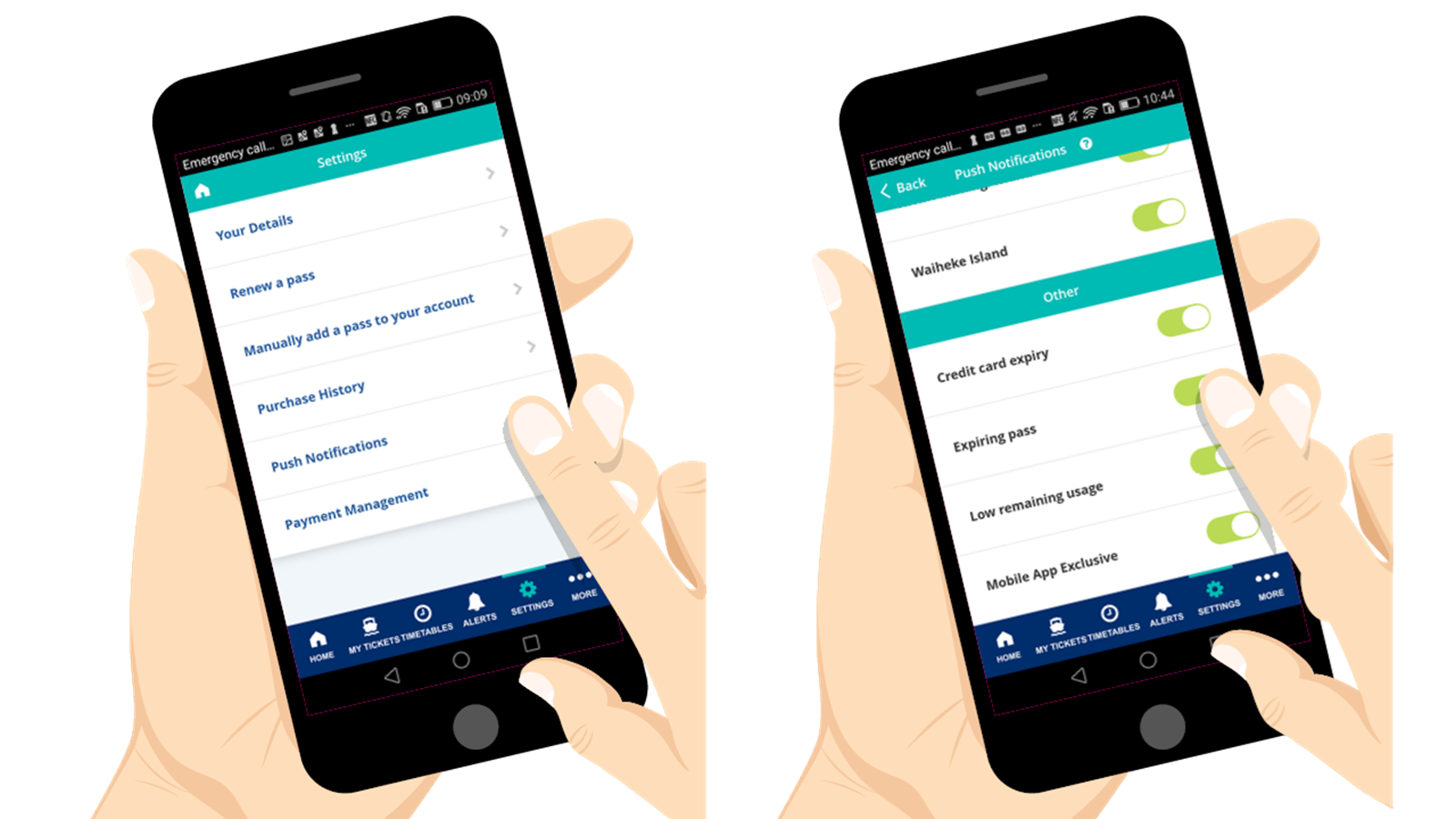 Under the push notifications setting, you can choose to receive notifications for:
Expiring Pass (you will get notified 3 days before expiry)
Low number of trips left (you will be notified when you have 2 trips left)
Credit card expiry
Mobile app exclusive

Follow the steps below to set your preferred notifications:
Go to Settings
Tap on Push Notifications
Scroll to Other
Select your preferred notifications
Once these notifications are set, you will receive your selected notifications and travel alerts on your phone lock screen, just make sure you have allowed push notifications to appear for the MyFerry app under your phone settings.
Remember you can switch off these push notifications at any time, just unselect them under the push notifications section.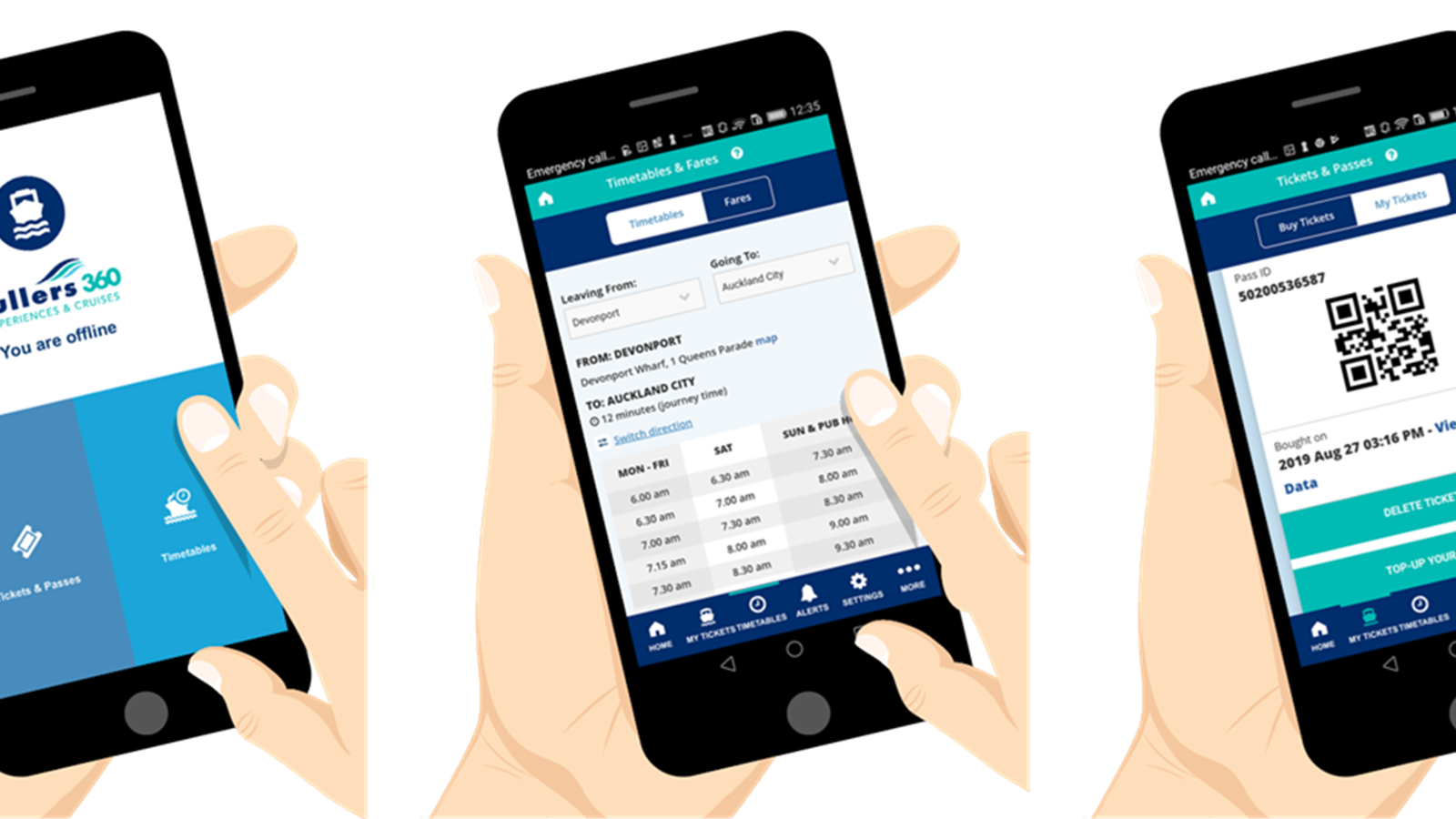 On the fly – access your timetables (and passes and tickets!) when you're offline. To use this feature, you just need to make sure you have downloaded your ticket when you are connected to Wi-Fi.
You can set your homepage to redirect to either Timetables and Fares or My Tickets when you open the app, just follow the steps below:
1. Go to Settings
2. Tap Your Details
3. Scroll to the bottom on the page
4. Under 'After login redirect to' select your preference from the dropdown box
5. To save your changes, tap Update
6. You will have to exit the app and open it again to see the updated homepage
If you've opted in to the destination(s) you want to receive travel alerts for within the app, but aren't receiving push notifications, you may need to adjust the settings on your device.
Navigate to Settings on your device, and click Notifications. From there, find MyFerry in the list of apps, and ensure you've selected Allow Notifications.
If that does not work, try resetting the app by clearing the MyFerry app Cache and Stored Data - See instructions below. You can also try uninstalling and reinstalling the MyFerry app to ensure you are always on the latest version.
Reset the app - Clearing the MyFerry app cache and stored data instructions:
iOS Devices:
1. Go to Settings > General > iPhone Storage
2. Select the MyFerry app
3. Tap Delete App
4. Now head to the App Store to re-download the MyFerry app
Android Devices:
1. Go to Settings > Apps
2. Select the MyFerry app
3. Tap Storage
4. Tap Clear Data and Clear Cache
5. Now start the MyFerry app