Tour Price
Includes return ferry ticket, full-day e-bike hire and helmet and bike lock hire.
Ferry and e-bike hire ($158.00)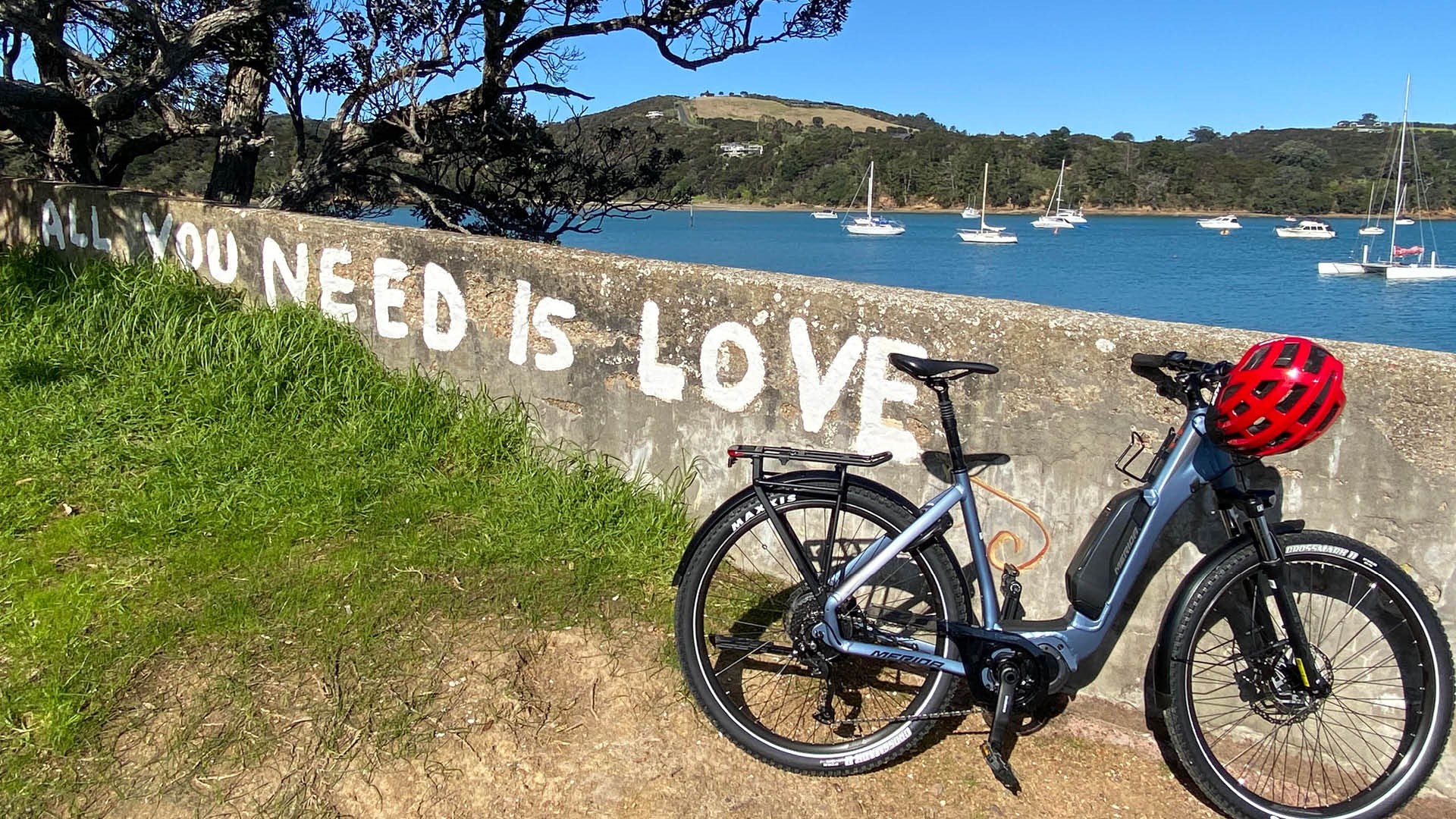 Download the Waiheke Island cycle map
Check out all the exciting e-bikes routes on Waiheke Island below.
Terms and conditions
NZ law states helmets must be worn. Helmets are provided upon rental and a range of sizes are available.
A credit card will be required upon e-bike collection as security for the rental. It will not be charged unless there is damage to the e-bike upon return.
Payment is due at the time of booking confirmation.
E-bikes are not recommended for those under 15 years old.
All e-bikes are designed for travelling on sealed roads only. E-bikes are not permitted on any unsealed roads on the eastern side of the island, including Orapiu, Man-O-War and Stoney Batter.
Waiheke Bike Shop do not permit customers traveling beyond Waiheke Road in Onetangi due to safety reasons.
All experiences and tours are subject to Fullers360 terms and conditions and code of conduct. 
Terms and conditions
See the latest NZ Road Code here: https://www.nzta.govt.nz/resources/roadcode/cyclist-code
1. New Zealand law requires the bike rider to wear a cycle helmet when riding.
2. You agree that you have a good understanding of New Zealand and / or international Road Code rules and will keep left on the road at all times, observe all Road Code rules and use cycle lanes/paths when I can, while being careful and respectful of other users.
1. You will not cycle on the beach, in the sea or through waterways/rivers (rain ok).
2. You will not take any bike or equipment off Waiheke Island.
3. You will respect the equipment and treat it like your own.
4. You will report any damage and You understand that You will be liable for any damage, theft or loss of bikes and/or equipment, including excessive wear due to negligence or misuse of equipment.
5. Any equipment not returned by the stated time may incur additional late charges.
1. By proceeding with the Bike Hire, You are agreeing to the following statement:
1. I understand biking can be dangerous. I accept full responsibility for my actions and will not hold Fullers360 or The Waiheke Bike Shop Ltd or associated staff liable for any injury to any person or damage to any property – caused during my use of this equipment.
2. I have discussed with The Waiheke Bike Shop Ltd staff my intended use and have chosen the most suitable bike (road/pathway/mountain) for my needs. I will also wear appropriate footwear and clothing to prevent injury to myself and/or the equipment.
1. For international travellers proceeding with the Bike Hire, You are agreeing to the following statement:
I have appropriate travel insurance to cover this type of activity.
1. All riders must be 12+ years old and accompanied by someone 18+ years of age; and must be over 145cm tall.
2. Fullers360 and The Waiheke Bike Shop reserves the right to check a valid ID of the rider to ensure the individual is of the required age.
1. All riders shall ride at their own risk and Fullers360 shall not be liable for any loss, damage, harm or injuries (including consequential costs regarding this) of the rider or any loss, damage or harm caused by the rider to any property or person;
2. All Experiences and Tours are subject to Fullers360 Terms and Conditions and Code of Conduct.